MOBILE SUPPORT FOR COOBER PEDY
November 16, 2016
As part of the Mobile Language Teams state wide approach to supporting grass root language initiatives, the team recently met with George Cooley of Umoona Community, Coober Pedy, to deliver language resources and congratulate George and the team at Umoona Community on the successful application for the Indigenous Language and Arts funding recently received.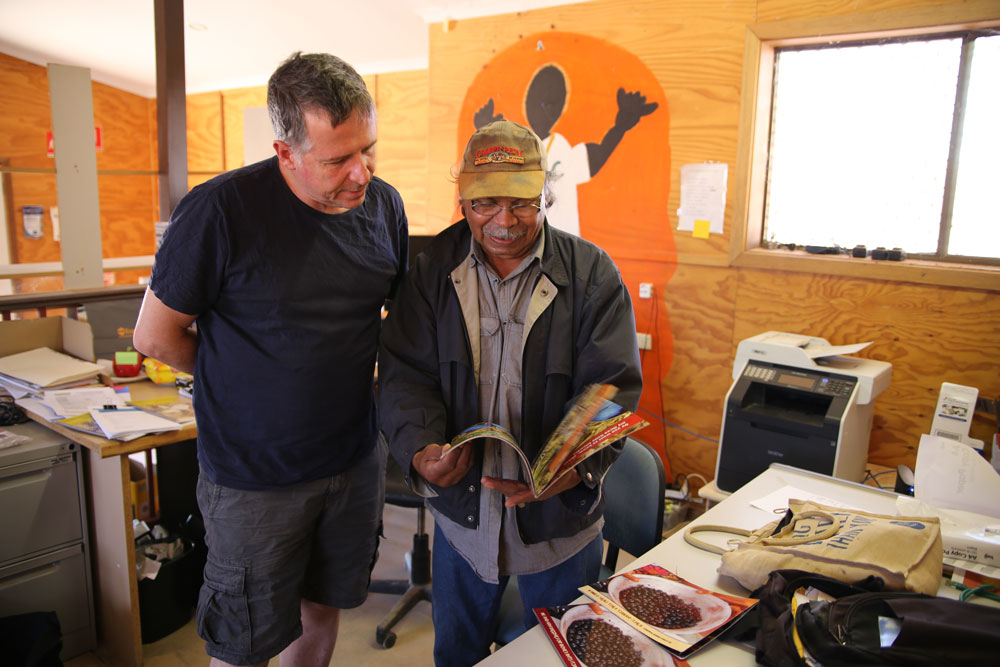 The language projects at Umoona have focused around developing song picture books and accompanying CDs that tell the stories of the land in language. These books and musical accompaniments have been in development for the last 12 months and have been enthusiastically received by the local community immediately around the Coober Pedy area and wider community around Australia.
Working into the future the Umoona Community are planning to use their grant to create and build a language center at Umoona, conduct archival recordings of people and their stories from Coober Pedy and surrounding communities and deliver training to enthusiastic language workers currently involved with projects in and around Umoona.
Over the last four years the partnership between Umoona and The Mobile Language Team has been focused on encouraging the development and expansion of language programs in the community, through the hard work of everyone at Umoona, the future of languages in Coober Pedy and the surrounding regions is bright.
Developing networks in rural and remote communities is a targeted aim of the Umoona Community, working with the Mobile Language Team we hope to develop language and training networks and succession plans that will create a hub of language resources and workers to continually promote the maintenance and ongoing growth of languages around the region. Receiving funding from the Australian Governments Indigenous Languages and Arts program is a cornerstone of language centers and programs around the state. The Umoona Community's successful application for funding is an example of the potential strength of language networks around Australia. The Mobile Language Team continues to work and support these programs in their initial stages of development and growth.
To get in contact or find out more information about the Mobile Language Team email us at info@mobilelanguageteam.com.au or call us on (08) 8313 0707.