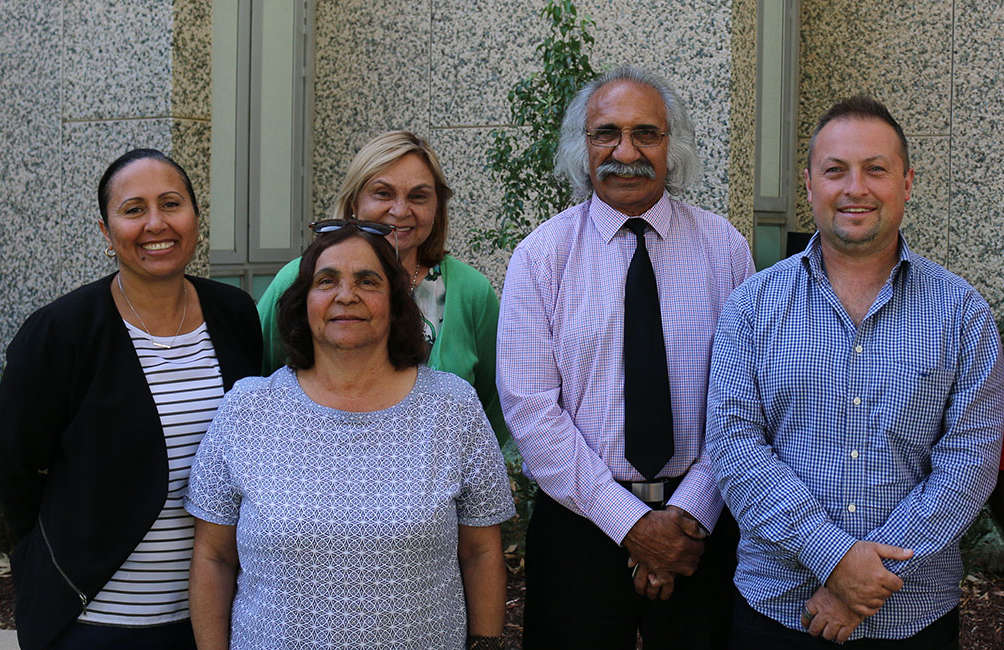 2018 members of the Mobile Language Team Aboriginal Policy and Advocacy Committee (MLTAPAC). From left to right: April Lawrie,Verna Koolmatrie, Lorraine Merrick, Trevor Buzzacott and Jared Thomas (Absent Rod O'Brien).
The Mobile Language Team Aboriginal Policy and Advocacy Committee (MLTAPAC) is an advisory committee established to give voice to community members on activities and role of the MLT at large.
The members of the committee are Aboriginal people with a relevant community profile that provide advice to the MLT staff and advocate for positive policy directions for Aboriginal languages and cultural programs on state and federal levels.
The members of the committee in 2018 are:
Mr Trevor Buzzacott (chair)
Mr Jared Thomas
Ms April Lawrie
Ms Lorraine Merrick
Mrs Verna Koolmatrie
Mr Rod O'Brien
MLTAPAC Terms of Reference
The broad terms of reference for the Mobile Language Team Aboriginal Policy and Advisory Committee are:
1. To advise the MLT in the course of its policy setting, planning and priorities
2. To advise and assist with the MLT's community, advocacy, networking and publicity
3. To add to the MLT's information about Aboriginal language communities' aspirations and their present actions in reviving, renewing and maintaining their languages
4. To contribute to periodic evaluation of the MLT's work, and to advise on methodology for obtaining evaluation by Aboriginal community organisations and members
The Role of the MLT
Provide technical assistance and linguistic advice in writing and producing locally-based Aboriginal language resources.
Train and mentor Aboriginal language workers  in specific areas of language work as needed and work towards establishing career pathways for language workers.
Run language workshops as requested on topics such as: orthographies and writing systems, dictionary making, setting up a database, song-writing, language games, grammar etc.
Work closely with TAFE in delivering Certificate III and IV courses for community language workers and teachers.
Assist language revival and maintenance projects within communities and families.
Establish networks amongst those working with Aboriginal languages in SA, including speakers,  interpreters, language workers, linguists, teachers, the SA Department for Education and Child Development (DECD), the three SA Universities (Adelaide, Flinders and UniSA), AIATSIS, TAFE SA, Umeewarra Radio etc
Increase the visibility and use of Aboriginal languages in the media, at community events and in the public sphere.
Establish a collection of materials produced in and on South Australian Aboriginal languages.
Contribute to a website providing information on SA Aboriginal languages, including a guide to useful resources.
Support mutual learning and sharing among community-based language projects.
Promote world's best practice in language work in SA.
Lobby for interpreting and translation services to address the needs of service providers and communities.
Lobby for language and culture programs for incarcerated Aboriginal people.
Strategic Objectives of the MLT
To transition the MLT to a language institution for Aboriginal langauge issues in South Australia under full Aboriginal control.
Capacity building through cadetships, training and employment in language to young Aboriginal people
Identifying and attenuating factors that adversely affect Aboriginal language programmes in SA
Promoting better understanding of the economic factors in language maintenance and revival, including future funding of the MLT
Strengthening endangered languages in danger of becoming critically endangered
Producing a representative survey of the state of Aboriginal languages in urban centres (e.g. Port Pirie, Whyalla, Port Augusta) and settlements on non-traditional country in South Australia (e.g. Yalata, Gerard)
Assisting the Far West Languages Centre (Ceduna) restore functional links between Far West Coast Aboriginal languages; working towards a multilingual language ecology
Preserving and documenting critically endangered South Australian Aboriginal languages
Completing the MLT audit of South Australian Aboriginal languages and helping communities to identify language needs and explore ways of addressing them
Enhancing the functional links between the MLT and stakeholders in South Australian Aboriginal languages
Raising awareness and appreciation of Aboriginal language issues in the wider community
Exploring and/or implementing new technologies (e.g. social network media, )
Funding
The Mobile Language Team is funded by the Australian government's Department of Infrastructure, Transport, Regional Development, Communications and the Arts – Indigenous languages and arts program.