Join the Team
The Mobile Language Team is based in Adelaide. We travel to many different parts of the country to deliver language services in close partnership with Aboriginal communities. We're always on the hunt for passionate people to join the team!
Aboriginal and Torres Strait Islander people are particularly encouraged to get in touch. We have job opportunities to suit many different skills, interests and experience.
Please send us an email on info@mobilelanguageteam.com.au.
Aboriginal traineeships
Aboriginal traineeships are paid positions, identified for Aboriginal and Torres Strait Islander people. We offer training and support to develop skills in language work, linguistics, and any other related areas of personal interest to you including media, art, and music. Upon successful completion of traineeships there are many opportunities to join the team as an ongoing staff member. Hear from one of our past trainees here.
Student internships
We offer internships which may be counted towards your studies. Speak to your university course coordinator to see if this could be a possibility for your degree. We have accepted interns from many different disciplines including linguistics, language studies, Aboriginal studies, anthropology, science, and media. Hear from some of our past interns here.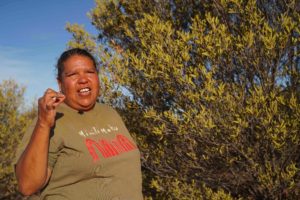 Senior Aboriginal Language Worker Karina Lester. Photo by Christina Skujins (MLT)