MLT PRESS PRINTS BARNGARLA FLIP CARDS
April 30, 2018
The MLT was invited to Port Lincoln in December last year to assist local Barngarla people with publishing a large set of Barngarla Flip Cards to be used for language learning amongst Barngarla families.
Barngarla woman Jenna Richards created and designed the Barngarla Flip Cards to fill a language resource gap in the community of language learners. Now her family and the younger generations of Barngarla kids have a resource that they can hold onto and pass around, that actively assists in the language learning process.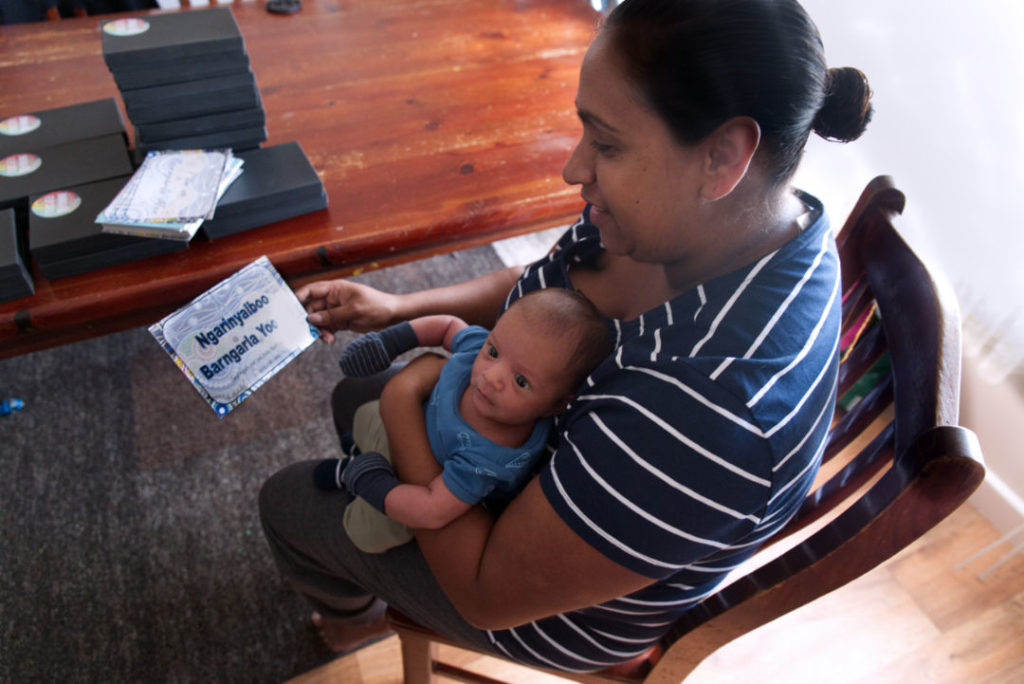 At the handover of the 20 boxed sets of cards in her home, Jenna said
'I love to be able to sit with kids and have them pick up cards when they see and hear the Barngarla words. It gets them questioning language in general, where language originates from'. She added 'language apps are good if you have internet or data [on your phone] but these cards will always work'.
Jenna is motivated in her volunteer language work by her strong belief that
'language is integral to identity. If you don't have language you have a piece of you missing'.
Jenna's hopes for the Barngarla language is having her family and community being able to hold conversations among themselves. The Barngarla Flip Cards, to Jenna, are a crucial step towards this goal.
MLT Press
Publishing the Barngarla Flip Cards is part of a new initiative at the Mobile Language Team namely the MLT Press. Its aim is to publish language resources for communities across the state and in particular to publish low cost, professional resources and work to eliminate the obstacles that prevent Aboriginal language resources from being published.
The formation of the MLT Press came about from community feedback that detailed a range of financial and corporate barriers that prevented communities from printing and publishing their resources. The MLT Press will function as a part of the wider MLT and will simply work to cover the costs of printing and distribution of materials to communities.
As part of this new push, the MLT Press has funded the printing and distribution of the 20 sets of Barngarla Flip Cards for the Barngarla community of Port Lincoln to ensure the ownership of these materials stays in the hands of it's creators, Jenna Richards and the Barngarla of Port Lincoln.
Driving out to Port Lincoln on Thursday the MLT got to deliver the first 20 sets of Flash Cards in what we hope will be a continued relationship of helping develop community created and community owned language materials that will help with the revitalisation of the Barngarla language in the area.
If you, or anyone in your community is having trouble getting language resources or materials published, please get in touch with the MLT to chat about different ways the MLT Press can help in getting your materials published.
Call us on (08) 8313 0707 or email us at info@mobilelanguageteam.com.au

Find out more information about the Barngarla language by visiting Barngarla.com