LANGUAGE TRAINING IN ADELAIDE
July 5, 2018
This month, the Mobile Language Team invited trainers from RNLD (the Resource Network for Linguistic Diversity) to run a three-day training workshop in Adelaide. The workshop attracted a number of participants from across the state, who represented a number of languages including Yankunytjatjara, Arabana, Adnyamathanha, Dieri and Nukunu.
The workshop focused on the 'Master-Apprentice' method of learning and teaching languages, developed by First Nation's people in California. The workshop group were introduced to key elements of the method, including the 10 principles of successful language learning, and were able to plan and run some teaching activities across the three days in their respective language. Activities presented by the group included a session on how to make tea using Yankunytjatjara instructions, and a three way conversation between animal finger puppets in Dieri, Arabana and Adnyamathanha!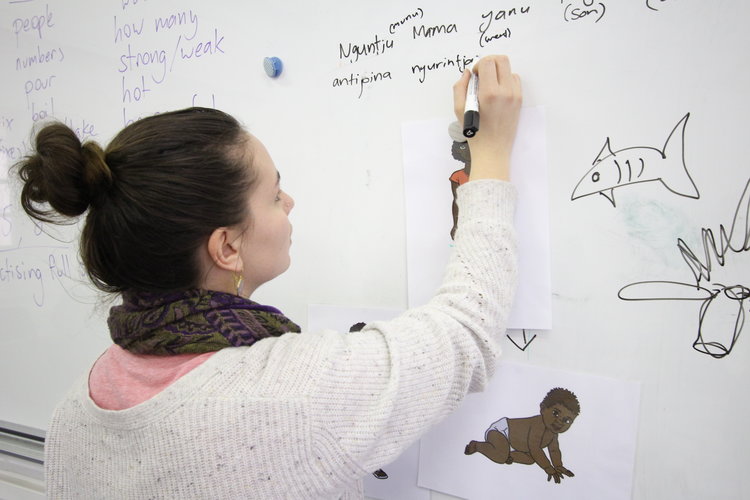 The great thing about the Master-Apprentice method is that it can be used at home with family, in a community language club or even in a formal classroom setting. The method promotes the idea that teaching language is something which can be done by anyone, even those who aren't yet confident speakers of the language. For the participants, it was a great opportunity to develop some resources for future language work while also meeting and speaking with people from other language groups to share experiences and knowledge.
RNLD offers a number of short and long-term training courses for language groups in Australia. Contact them via their website for more information. http://www.rnld.org/contact

If you would like support to run a workshop or training session in your community, please contact the Mobile Language Team here. https://mobilelanguageteam.com.au/about/contact