BARNGARLA ON THE RISE IN WHYALLA
November 30, 2017
For Barngarla woman Anita Taylor, working on bringing Barngarla back to life from historical sources is her passion. Over the last five years she's worked closely with the MLT to help this happen for her and her family.
As part of a new MLT one-on-one mentoring program Anita is currently working on her Barngarla pronunciation and learning words recorded by the German missionary Clamor Schürmann at Port Lincoln in the 1840s.
Anita puts these sounds and words into use at the Hincks Avenue Primary School where she helps local children to speak the words and have a meaningful Barngarla experience.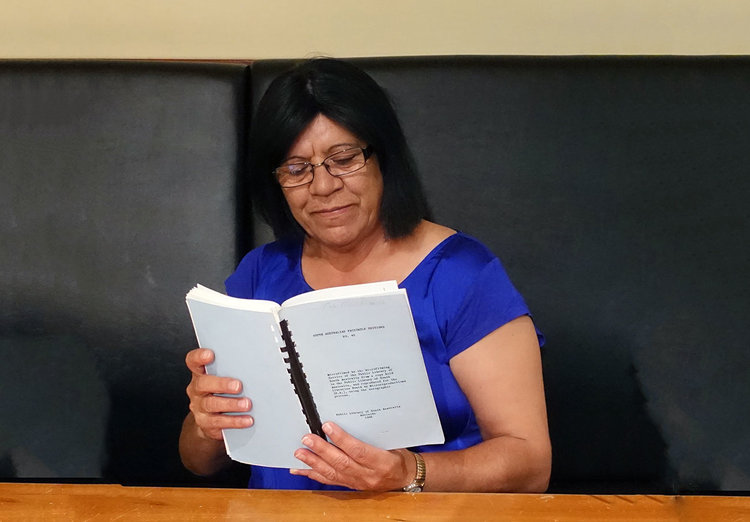 Recently Anita attended a Pitjantjatjara short course in Whyalla through her workplace and discovered how strongly-spoken Aboriginal languages flow. Her aim is to speak the original Barngarla language, staying true to the historical recordings of her ancestors, but in a way that flows.
Since the Pitjantjatjara short course has raised awareness of Aboriginal languages in the education sector, Anita has received a number of requests for information in Barngarla for teaching purposes, such as colour words, numbers and words for things in the environment.
During NAIDOC week this year Anita took part in a range of activities, raising awareness for the Barngarla language in Whyalla and providing Barngarla words for a garden project she took part in.

Anita somehow finds the time to pursue her studies in teaching at UniSA, where she is completing her third year of a teaching degree.
In the photo above Anita is reading the Barngarla grammar and vocabulary published by Clamor Schürmann in 1844.
For more information about Barngarla language activities in Pt Augusta and Pt Lincoln visit the Barngarla Language Advisory Committee.