HARNESSING VIRTUAL REALITY FOR LANGUAGE REVIVAL
April 12, 2021
Colleen Strangways is an Arabana photographer, filmmaker and founder of Nharla Photography. In 2019 Colleen attended a Virtual Reality (VR) workshop and immediately recognised its potential for bringing First Nations' land, language and oral histories to life.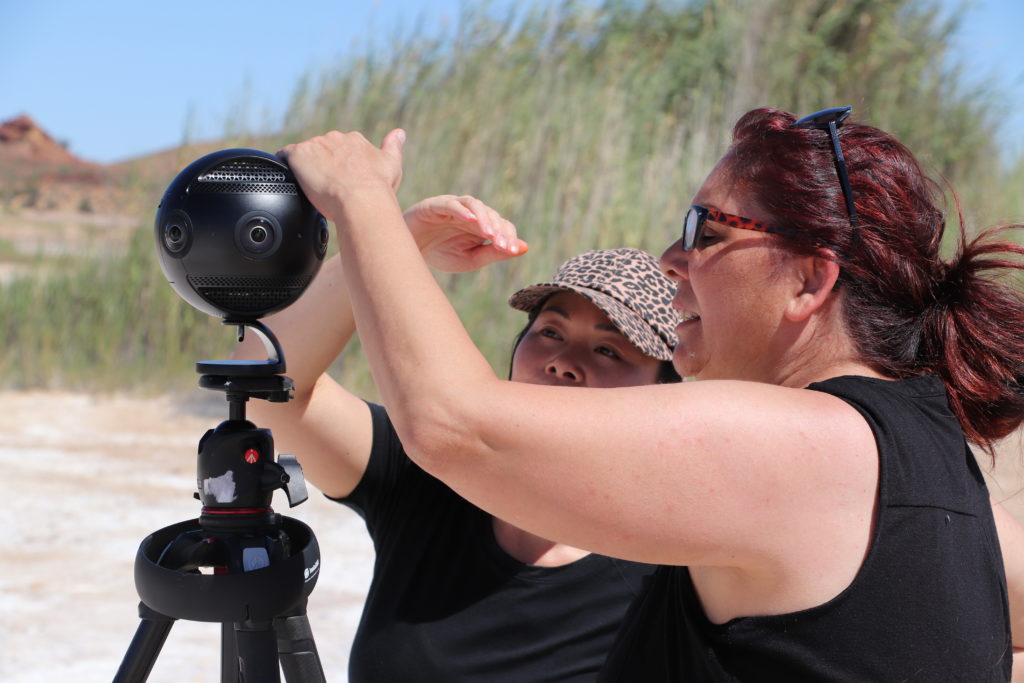 The Mobile Language Team, in partnership with KuArts, were successful in receiving funding from the Australia Council for the Arts to lead a world-first VR language revival filming project.
The dynamic project team includes Colleen Strangways (director), Vivian Wong (VR specialist of VDigital Creative), Lakota Milera-Weetra (MLT Arabana Language Worker and visual artist), Mel Henderson (Arts advisor from KuArts) and Eleanor McCall (MLT Project Linguist).
The team hit the road over the Easter long weekend to embark on remote area filming on Arabana country, making camp at Finniss Springs (50km north of Marree, off the Oodnadatta track).
Speakers, Elders, language learners, children and the project team themselves are filmed within the breath-taking landscape. One Elder shows the audience a significant desert mound spring which is drying up. The viewer will be able to listen to him speak in Arabana language while turning and looking around at the spring itself.
The VR equipment proves a particular challenge in hot, dusty conditions, with the camera only able to run for 15 minutes at a time before overheating. The data produced throughout the filming fills up multiple hard drives and SD cards. In addition, the filmmaker must not be in the 360 degree shot while the camera is rolling, so much time was spent hiding behind bushes whilst monitoring the footage via smart phone.
Lakota documents the entire process with a hand-held camcorder to provide us with a behind-the-scenes look at the filming process.
The VR footage has now been taken back to Adelaide to begin the arduous process of editing which requires speciality, high-capacity computers.
Colleen hopes this ambitious project – once completed – will provide a template for language groups both in Australia and around the world.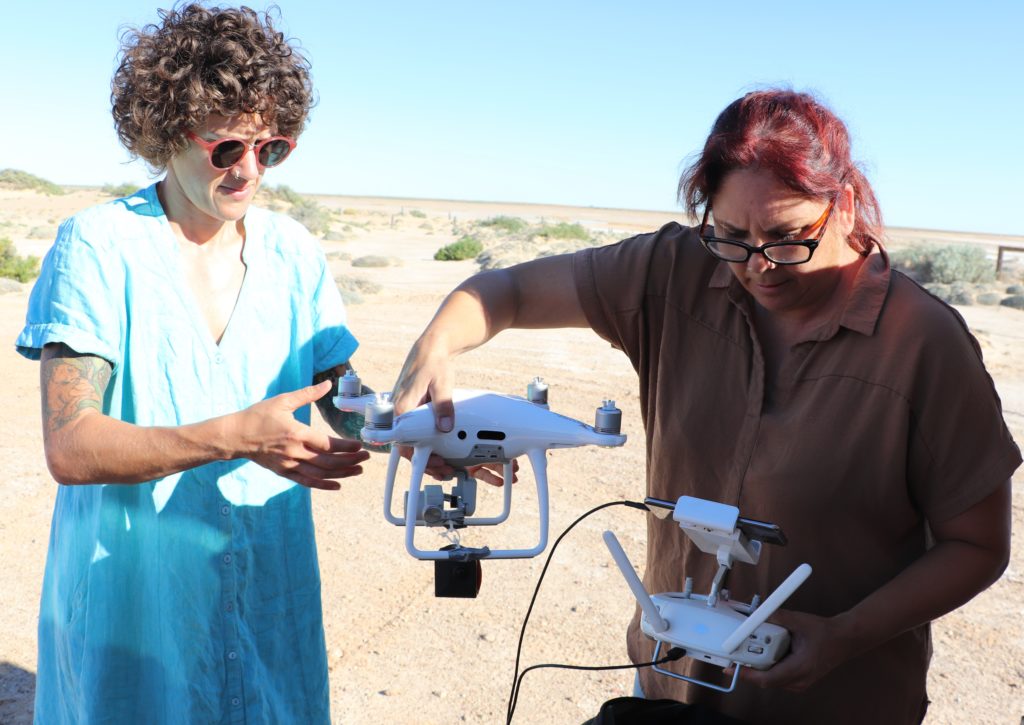 Stay tuned for project updates throughout 2021!
This project has been assisted by the Australian Government through the Australia Council, its arts funding and advisory body.