FAREWELL AUNTY KAELENE, ADNYAMATHANHA LANGUAGE TEACHER RETIRES
September 11, 2018
2018 has come at a cost for the Adnyamathanha language, with Quorn-based Adnyamathanha language teacher Kaelene McMillan retiring from her position as a language teacher with the Department Education and Child Development (DECD).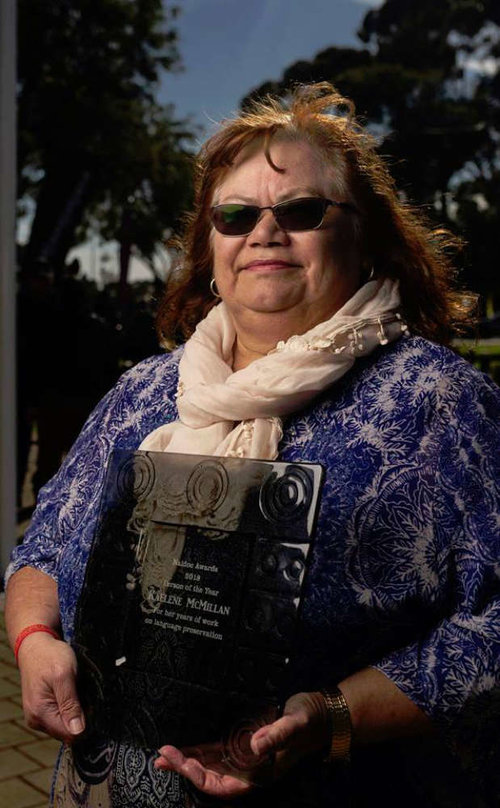 After teaching the Adnyamathanha language to countless amounts of children, and adults, over a 20+ year career, Kaelene has made the decision to take time to focus on her family, health and travel.
Having talked to Kaelene recently, she informed the MLT that this was a decision she was making for herself and her family. "I've been working at this Adnyamathanha language game for over 20 years now, and I just want to take some time for myself, which will include plenty of travel – in Australia – and spending plenty of time with my children and grandchildren."
Kaelene has been a stalwart of language education, attending and presenting at numerous conferences around the country, as well completing a number of TAFE Certificates to consolidate her position as a language teacher. Kaelene dedicated herself to the preservation of the Adnyamathanha language, and this was something that was, and still is of the utmost importance to her. This was recognised by the wider South Australian Aboriginal community when she was awarded the 2018 NAIDOC Person of the Year Award for her work and passion for language preservation.
A substantial void has now been left by the retirement of Kaelene, but she is buoyed by the potential for Adnyamathanha language programs in schools, as well as the work that is happening through the MLT. While Kaelene has retired from the Department, she has vowed to continue her role as a language teacher and mentor within the Adnyamathanha community.
Enjoy your retirement Aunty Kaelene! You've earned it!