Kaurna
Kaurna is the language of the city of Adelaide and the surrounding Adelaide Plains. Traditional Kaurna territory extends from the Light River in the north to Sellicks Hill in the south. It is bounded by Gulf St Vincent to the west and the Mt Lofty Ranges to the east and the south.  Kaurna country lies to the south of the countries where the closely related languages Nukunu and Ngadjuri were spoken.
AIATSIS id : L.03
VARIATIONS
Adelaide tribe, Coorna, Gaurna, Jaitjawar:a ('our own language'), Karnuwarra ('hills language,' a northern dialect, presumably that of Port Wakefield), Kaura (misprint for Kaurna), Kaurna (used by AIATSIS), Koornawarra, Kurumidlanta (Pangkala/Barngala term, literally 'evil spirits'), Medaindi (group living near Glenelg), Medain-die, Meljurna ('quarrelsome men,' said of northern groups of Kaurna), Merelde (Ramindjeri term applied most frequently to the Peramangk but also to the Kaurna), Merildekald (Tanganekald term also loosely given to Peramangk), Meyu, Meju (Kaurna for 'man'), Meyurna, Midlanta (another name given by Pangkala), Milipitingara, Nanduwara, Nantuwara ('Kangaroo speakers,' name given to northern groups), Nantuwaru, Nganawara, Padnaindi (group name), Padnayndie, Taralye meyunna, Wakanuwan (name applied by Jarildekald to this and some other tribes, including Ngaiawang), Warra (means 'speech', a name for language), Warrah, Widninga (Ngadjuri term applied to Kaurna of Port Wakefield and Buckland Park), Winaini (group north of Gawler), Winnay-nie, Winnaynie.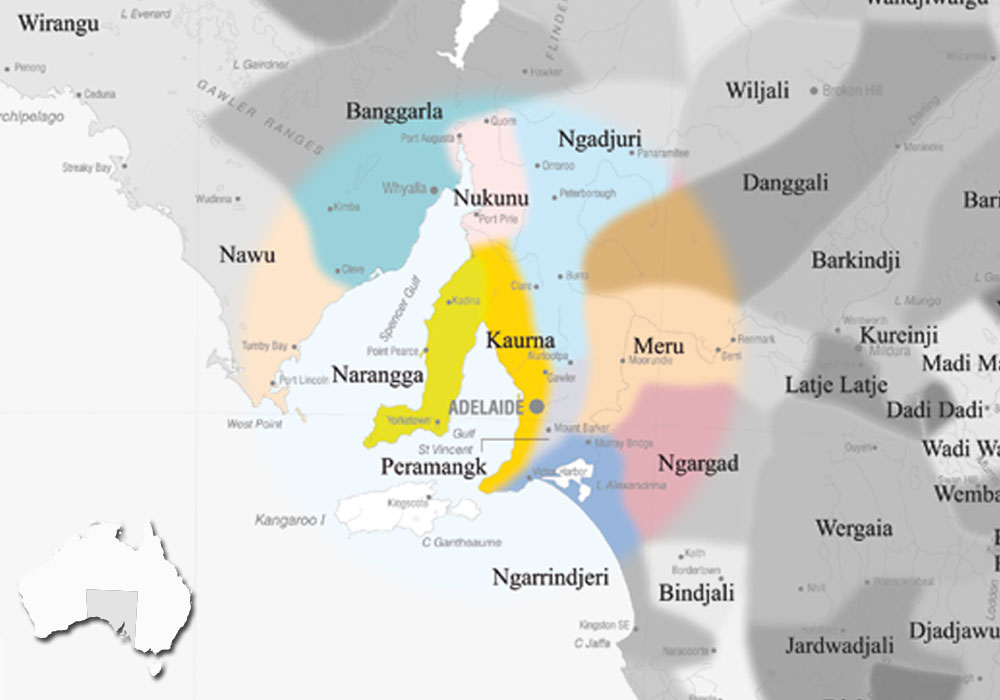 Read more...
Location
It is generally accepted that Kaurna territory covers the entire Adelaide Plains, extending from Crystal Brook and Clare in the north, and south to Cape Jervis on the tip of Fleurieu Peninsula. It is bounded on the west by St Vincents Gulf and to the east by the Mt Lofty Ranges. This territory confers with that identified as Kaurna country on Tindale's (1974) map, but differs with Berndt and Berndt (1993) A World That Was, which extends Ngarrindjeri territory well north of Cape Jervis.
Alternative Names and Variant Spellings
Kaurna is the only name for the language in current use, having been popularised by Tindale after 1926. In the nineteenth century the German missionaries referred to it as the language of the 'Adelaide Tribe', while Klose recorded Wito Meyunna, literally 'reed men', for the people of Adelaide and Taralye Meyunna, literally 'stockade men, for those who lived at Piltawodli (which was 'The Native Location' in Adelaide on the River Torrens). The Kaurna living at Rapid Bay were known as the Patpa Meyunna, literally 'south people'. Other names used for the Kaurna included the Kauwandilla (Cowandilla) Tribe and the Tarndanya (Darnda Gunya etc) Tribe. Wyatt (1879) records Meyurna 'people' as the name of Onkaparinga Jack's Tribe, who was one of the main sources of the language as we know it today.
Dialects and closely associated languages
Practically speaking, there is now just one variety of Kaurna in use, however there appears to have been at least four dialects of Kaurna once spoken. Different words for the verb 'to go' seem to be a dialect marker (with 'padnendi' in the north; 'murrendi' at Aldinga and 'wenendi' at Rapid Bay). There is little possibility of restoring a detailed knowledge of such dialect differences.
Kaurna is closely related to the Narungga, Nukunu and Ngadjuri languages. Barngarla and Adnyamathanha are a little more distantly related but still share numerous words. Further north, 29% of Pitjantjatjara vocabulary is said to be cognate with (or similar to) Kaurna words.
Present number and distribution of speakers
Kaurna is referred to as a 'sleeping' language by Kaurna people today, rather than the more derogatory term a 'dead' language. Now that the language is being revived, people refer to Kaurna as being 'woken up', despite it not yet being spoken fluently as a first language. The last person to speak the language fluently would have been Ivarityi who passed away in 1929.
There are at least several hundred who now identify primarily as Kaurna people and several thousand with known Kaurna ancestry. Forty to fifty Kaurna people have participated in formal courses or workshops attempting to learn the language, together with a number of Aboriginal people from other language groups, along with scores of non-Aboriginal students. The use of some Kaurna terms and expressions, which were developed within formal courses and workshops, has spread within the Kaurna community and to some extent within Nunga society in Adelaide.
People who have worked on the language
The work of the German missionaries, Teichelmann and Schürmann, are the main and by far the best source of knowledge of the Kaurna language. They produced a sketch grammar, a vocabulary of about 3,000 words and recorded hundreds of translated sentences, but very few texts (see Teichelmann & Schürmann 1840; Teichelmann 1857; Teichelmann 1858 listed under Archival Resources). Missionary Klose also preserved several letters and texts written by Kaurna children as well as Teichelmann and Schürmann's translations of six German hymns. Their Kaurna translations of the Ten Commandments and one of Governor Gawler's speeches also survive. A range of other sources produced in the nineteenth century also exist, but are of lesser quality.
More recently Jane Simpson (now at the Australian National University) has worked extensively on Kaurna grammar and its relationship with neighbouring languages, though much of this material is unpublished. She has also written papers on Teichelmann's (1857) manuscript dictionary (Simpson 1992), Kaurna personal names (Simpson 1998) and the early Pidgin Kaurna language (Simpson 1996).
Rob Amery completed a PhD in 1998 at Adelaide University entitled Warrabarna Kaurna! Reclaiming Aboriginal Languages from Written Historical Sources: Kaurna Case Study. He analysed the Kaurna historical sources and reviews attempts in the 1990s to relearn and use the Kaurna language for a range of purposes. A reduced version of this thesis has been published (see Amery 2000). Amery continues to work on Kaurna, acting as a consultant to Kaurna language programs and initiatives.
Chester Schultz is currently undertaking exceptionally detailed work on Kaurna placenames going back to the very earliest records in an attempt to identify information that has come directly from Kaurna people.
Early records and manuscripts
There are 21 early sources that have been found to date which record some aspect of the Kaurna language, beginning with a wordlist of 168 words collected by the French naturalist Gaimard aboard the Astrolabe in 1826 from two Kaurna people, Harry and Sally, who accompanied sealers to King George Sound in the southwest of Western Australia where Albany is today. The quality and size of the various Kaurna sources vary, but all have been accessed by Amery and used to piece together the jigsaw of reconstructing the Kaurna language. The most useful sources are Teichelmann & Schürmann's (1840) publication Outlines of a grammar, vocabulary, and phraseology of the aboriginal language of South Australia, spoken by the natives in and for some distance around Adelaide and Teichelmann's unpublished (1857) wordlist. However, other wordlists such as Wyatt (1879), Williams (1840), Piesse (1840) and others provide some additional information. See Amery (2000) for a more detailed description of the sources.
Wordlists and Dictionaries
Altogether, somewhere between 3,000 and 3,500 Kaurna words were recorded in historical sources, with most by the German missionaries (Teichelmann & Schürmann, 1840) and Teichelmann (1857). William Wyatt (1879) recorded some 651 words, including 100 that did not appear in the German sources. William Williams (1840) recorded 377 words, of which about 30 were not recorded by Teichelmann & Schürmann (1840) or Teichelmann (1857).
A composite Kaurna wordlist Warra Kaurna was published in 1997 (see Amery 1997), which is organised by topic or domain. This includes the vocabulary in Teichelmann & Schürmann (1840), Teichelmann (1857), some additional words imported from the lesser sources and new terms developed in the 1990s. New terms include items such as 'computer', 'whiteboard' and 'reading' needed within the school context, together with sporting terms, numbers, days of the week, months of the year and holidays etc.
Additional vocabulary items within the context of childrearing and homelife were developed in a series of workshops held in November 2000 (draft edition published, Amery & Gale 2000). Still more new terms were adopted in the process of compiling a Kaurna Learner's Guide.
Teichelmann & Schürmann (1840) and Teichelmann (1857) were keyboarded as electronic files by Jane Simpson and recently converted to a Shoebox database by Howard Amery in 2001. These wordlists will soon be available as an English-Kaurna reversal. A Kaurna dictionary project, funded by the Commonwealth through the MILR program is currently underway. It is planned to record sound files for all Kaurna words recorded in historical sources as well as more recent neologisms.
During 2010 and 2011 a new spelling system has been introduced which aims to simplify and regularise how Kaurna is written, while still reflecting some of the conventions used by Teichelmann & Schürmann which many people are already familiar with.
Grammar / Sketch Grammar
A good sketch grammar was produced by the Dresden missionaries (in Teichelmann & Schürmann 1840) and additional grammatical notes prepared by Teichelmann (1858). Further observations are embedded within Teichelmann's extensive vocabulary (see Teichelmann 1857).
Jane Simpson is currently writing a grammar of Kaurna based on a compilation of historical sources and comparisons with related languages.
Language Learning Material
Between the mid 1990s and 2005 assorted curriculum modules and language learning lessons have been prepared for the Kaurna language, largely by Rob Amery, but also by teachers at Kaurna Plains school. Not all of these are published or readily available. They include:
A set of thirteen language learning lessons for the 'Kaurna Language & Language Ecology' course at Adelaide University recorded on tape with an accompanying transcript (Amery, Watkins & Rigney 1997). A phonology tape recorded (Amery 1997) to teach pronunciation. This consists of Kaurna words with known Nukunu cognates. Several HyperCard stacks by Amery (Sounds & Spellings; Multiple Choice questions on example sentences taken from Teichelmann & Schürmann 1840; Moving objects according to instructions given). These were used in Kaurna programs at Inbarendi College and Kaurna Plains School in the mid-1990s.
Modules of work on Kaurna Kinship and Kaurna Placenames published within the AILF materials (SSABSA 1996: 22-25). At times these have been a prominent feature of Kaurna programs.
Numerous worksheets and translation exercises have been produced in association with Kaurna workshops and for the senior secondary programs, but have never been collated and published. Examples of some of this material is included in Amery (1998: Vol.2: 153-200). A number of photocopied booklets produced by Cherie Watkins for Kaurna Plains School. These include Nganna Karrendi 'What Can Fly?', Yaintya Ngai 'This is me' together with counting books, booklets to support excursions, and games such as a Kaurna version of Bingo. Adult students of Kaurna have produced board games and other language learning materials.
A detailed program for study at senior secondary level was developed by Amery for the School of Languages in 2003. This included modules of kinship, placenames, Dreamings and conversational topics.
Kaurna songs in Narrunga, Kaurna & Ngarrindjeri Songs (by Ngarrindjeri, Narrunga and Kaurna Languages Project 1990) were the first Kaurna language materials produced and remain a very important element of Kaurna language programs. In the first (1990) songbook seven of the 23 songs produced made use of Kaurna words. Some were entirely in Kaurna, others included a Kaurna verse or words in English. In 1995 an additional set of 25 Kaurna songs were written and recorded and later published in Kaurna Paltinna: a Kaurna song book (Schultz et al 1999). Most of these songs are much more complex than those published previously. Since then, numerous other Kaurna songs have been written. Only a few of these have been published. For example, Nelson Varcoe's song Nguya Nguya Murradlu – Reconciliation was published by the South Australian Primary Schools Music Society (SAPSMS 1998).
Several stories have been written in Kaurna including Wai Yerlitta! 'But Dad!' (Varcoe 1990) and Freddy Kanto 'Freddy the Bullfrog' (Wanganeen 1990) and a Kaurna translation (Amery 1992) of Tucker's Mob by Christobel Mattingley. Other translations of popular children's books were undertaken, but the books have not yet been produced. Several more are planned, but this remains an area in urgent need of work.
Popular kinship and locations guessing games were developed by Amery for the School of Languages program. Buckskin has since developed numerous language games for use with children. These have been very popular at Kaurna Plains School.
There are three current projects underway that will greatly add to the resources for teaching and learning the Kaurna language:
A Kaurna Learners' Guide Kulluru Marni Ngattaitya: Sounds Good to me! A draft prototype version has been written by Rob Amery with the Kaurna Warra Pintyandi group, and the final verson is to be published by Wakefield Press soon. It is a very graphic user-friendly guide to the language, organsied by topic, with many expressions and conversational elements that can assist those want to learn to use the language for everyday purposes. It has an accompanying CD with sound files.
A Kaurna Curriculum R - 10 for schools is currently being written by Jasmin Morley in collaboration with Kaurna Plains School. It comprises 30 modules organised by topic, and with three strands for each topic including: Communication, Learning about Language, and Learning about Culture.
The Kaurna Radio and Downloads project is producing two hour-long radio shows in and about the Kaurna language. Each show features a language learning module and banter in the Kaurna language. The shows will be made available on CD and for podcasting. A printed transcript will also be made available.
Language Programs
Kaurna is currently taught to relatively small numbers of students at all levels of education – early childhood, junior primary, primary, junior secondary, senior secondary, adult and tertiary level programs. Since 1990, when these programs began, there has been a steady expansion of programs. A few have been shortlived, but most have continued to operate despite staff turnover and minimal outside support.
Kaurna was introduced as the school language (LOTE program) in 1992 at Kaurna Plains School. This program has operated continuously since then. A senior secondary AILF program was introduced at Elizabeth City HS and Elizabeth West Adult Campus (now called Para West Adult Campus) in 1994. The latter program has operated on and off since then. In 2003 a Year 11/Year 12 program was developed for the School of Languages. This program has been taught at Adelaide High School, Warriparinga, Kaurna Plains School and LeFevre High School in evening programs, mostly to interested adults. These programs have een taught by Jack Kanya Buckskin since 2008. A Year 8 program was introduced in 1997 at Fremont-Elizabeth City HS. Courses have commenced in several other schools.
In 2000, there were 221 students learning Kaurna in schools, though these figures do not include the enrolments at Fremont-Elizabeth City HS. By contrast, in 2009, there were 517 students learning Kaurna some time in the year in metropolitan Adeaide. The schools involved in these 2009 programs included: Adelaide High School (124 students including a single term Year 8 program), Kaurna Plains School (157 Aboriginal students), Ocean View P-12 College (10 students), Salisbury North R-7 School (47 students), School of Languages (29 students) plus Smithfield Plains Junior Primary (100 students) and Smithfield Plains Primary School (50 students).
In 1993, a Kaurna course was introduced at Tauondi into the Cultural Instructors and Tourism course. This course focussed on fauna, flora, artifacts, ochres, kinship and other culture specific topics, together with greetings and introductions, in accordance with the language needs in cultural tourism. About 15 to 20 students were enrolled in this course each year, but the course is no longer running.
In 1997 Kaurna Language & Language Ecology was introduced by Rob Amery at the University of Adelaide. It relocated to the University of South Australia as Kaurna Language & Culture from 2002 until 2004 and thereafter back to the University of Adelaide. When the course was first introduced it taught about the Kaurna language as well as teaching students to speak and use Kaurna. When the School of Languages courses were established, the tertiary course became a course in Kaurna linguistics and revival linguistics. Those who wish to learn to speak Kaurna are referred to Buckskin's courses offered through the School of Languages.
Community Language Functions/Activities
The function of the Kaurna language is growing steadily within th community, withthe latest project being the development of a series of Radio Shows to be aired on radio Adelaide to encourage the use of the language for everyday purposes. By far the most public use of the language is the giving of welcomes in the language by Kaurna community members at very public and often well attended events, such as the opening of the Adelaide Festival of Arts. The prominent signage of pubilc places, parks and buildings throughout the metropolitan area also gives the Kaurna language a very real public presence. So the many functions currently served by the Kaurna language include:
As a subject of instruction at all levels of education
Used to a small extent as a medium of instruction
Subject matter for linguistics studies
Used for greetings and leavetakings between an increasing number of Kaurna people and others who work, study or otherwise associate with them
To welcome people to Kaurna land (in speeches of welcome)
To introduce cultural performances (eg Paitya Taikurtinna and Kuma Karro dance troupes)
To write and perform Kaurna songs
To name people and pets
To name or rename places
In signage and art installations in the public domain
As the language of the home (to a small extent)
To write and perform plays or skits for radio and other public performances
To text messages on mobile phone
To email messages on the computer via the internet etc.
Kaurna Warra Pintyandi (lit. 'creating Kaurna language') is a group of Kaurna people, teachers, linguists and language enthusiasts who are passionate about the reclamation and revival of the Kaurna language. This group, which grew out of a series of Kaurna language development workshops in 2002, now meets on a monthly basis. The group continues to work at developing the language, and amongst other activities, is prepared to consider requests for information related specifically to the language itself. KWP reserves the right to levy a fee for these services. Funds earned, donated or granted to the group are auspiced by the University of Adelaide. See http://www.adelaide.edu.au
KWP has established a database of Kaurna requests and the use of Kaurna in the public domain and is mapping these names onto GoogleEarth. In 2011 there were 800 entries in the database with many additional names yet to be entered.
KWP also entered into a joint project with the Geographical Names Unit and the fours southern councils (City of Onkaparinga, City of Marion, City of Holdfast Bay and Yankalilla Council) to establish a Kaurna Placenames website (http://www.kaurnaplacenames.com) which also maps placenames on GoogleEarth.
Above Information written by Rob Amery with Mary-Anne Gale
REFERENCE AND SOURCE ARCHIVE
ABORIGINAL CHILDREN. 1990. Testimony to Gawler. In: Paperbark: a collection of Black Australian writings. Jack Davis et al. eds. St. Lucia, Qld.,University of Queensland Press pp 53-54. [Text and translation of a testimony to Governor Colin George Gawler, 15 May 1841, by nine Aboriginal children.]
AMERY, Rob. 1990. What Can (or should) You Do With A Dead Language. [[Unpublished article accepted for publication in VOX, the journal of AACLAME, but not published due to discontinuation of the journal. This paper reports on the language revival program mounted in Adelaide in the local languages - Kaurna, Ngarrindjeri and Narrunga. It addresses policy issues in relation to the funding of language revival programs.]]
AMERY, Rob. 1993. Encoding New Concepts in Old Languages: a case study of Kaurna, the language of the Adelaide Plains. Australian Aboriginal Studies No.1: pp.37-47. [[Available at the State Library of South Australia, Barr Smith and other libraries in Adelaide.]]
AMERY, Rob. 1994. Maikoko Birko. Norwood, SA, Omnibus Books. [[Kaurna translation of Tucker's Mob, a children's story written by Christobel Mattingley. Available at the State Library of South Australia and other libraries in Adelaide.]]
AMERY, Rob, ed. 1995. Warra Kaurna: a resource for Kaurna language programs / cover design by Snooky Varcoe. Adelaide, Inbarendi College. (Also Rev. and expanded 1997; 2nd rev. and expanded ed. Adelaide: Kaurna Warra Pintyandi, 2003.) [[Includes: Notes on spelling and pronunciation by Rob Amery; Kaurna wordlist by Jane Simpson; plus 'Outlines of a grammar, vocabulary, and phraseology of the Aboriginal language of South Australia, spoken by the natives in and for some distance around Adelaide' by C.G. Teichelmann, C.W. Schurmann. Available for purchase from Tandanya and Kaurna Plains School, or on loan from the State Library of South Australia, Barr Smith and other libraries in Adelaide.]]
AMERY, Rob. 1995. It's ours to keep and call our own: reclamation of the Nunga languages in the Adelaide region, South Australia. International Journal of the Sociology of Language, 1995; no. 113, p. 63-82. [[Available at the State Library of South Australia, Barr Smith and other libraries in Adelaide.]]
AMERY, Rob. 1995. Making use of Historical Language Materials. In Nick Thieberger, ed. Paper and Talk: A manual for reconstituting materials in Australian indigenous languages from historical sources. Canberra: Aboriginal Studies Press, pp. 147-164. [[Paper presented at the AIATSIS workshop 'Working with Australian Indigenous Languages that are no longer spoken right through'. March 1993. Available at the State Library of South Australia, Barr Smith and other libraries in Adelaide.]]
AMERY, Rob. 1996. Kaurna in Tasmania: a case of mistaken identity. Aboriginal history, Vol. 20, p.24-50. VIEW HERE [This article discusses the discovery of a newly discovered Kaurna wordlist found amongst Tasmanian language materials. Available at the State Library of South Australia, Barr Smith and other libraries in Adelaide.]
AMERY, Rob. 1996. 'Language Reclamation: the interaction between linguistic and social processes in the restoration of languages no longer spoken.' Paper given at the Australian Linguistics Society Conference, Canberra, July 1996. []
AMERY, Rob. 1996. Language Reclamation and Revival. In David Nathan (ed.) Australia's Indigenous Languages. SSABSA, Wayville. Printed by Wakefield Press, Adelaide, Chapter 9, pp.179-202. [[Available for purchase from SSABSA, or on loan from the State Library of South Australia, Barr Smith and other libraries in Adelaide.]]
AMERY, Rob, ed. 1997. Kaurna language & language ecology: Semester 2 1997 & Summer School readings. Adelaide, S. Aust.: University of Adelaide, Linguistics, Vol. 1. Kaurna sources. Vol. 2. Articles. Reprinted 2003 & 2004. [[This collection of articles contains copies of many of the primary sources and also some secondary source articles about the reclamation of the language. These articles are available online through the University of SA Library for Kaurna community members and students enrolled in the Kaurna language course. Also through http://www.adelaide.edu.au/kwp On lo.an from the Flinders University Library and other libraries in Adelaide.]]
AMERY, Rob. 1998. Case Study 3.1 (Reclaiming Kaurna: Overcoming Temporal Isolation). In Towards Successful Language Learning in Schools: A Collection of Case Studies, Department of Education Training and Employment, pp.85-90. []
AMERY, Rob. 1998. 'Sally and Harry: Insights into early Kaurna contact history'. In Simpson Jane, and Luis Hercus (Eds.), History in Portraits: Biographies of nineteenth century South Australian Aboriginal people, Aboriginal History Monograph 6, Southwood Press, Sydney, pp. 49-87. [This article looks at the first Kaurna wordlist recorded in 1826. Available at the State Library of South Australia, Barr Smith and other libraries in Adelaide.]
AMERY, Rob. 1998. Warrabarna Kaurna: reclaiming Aboriginal languages from written historical sources : Kaurna case study. PhD Thesis, University of Adelaide, Dept. of Linguistics, 1998. [Available at the State Library of South Australia, Barr Smith and other libraries in Adelaide.]
AMERY, Rob. 2000. 'The Role of Kaurna Linguistic and Cultural Heritage in the Reconciliation Movement.' Paper delivered at the Australian History Association 2000 Conference, University of Adelaide, 5-9 July. []
AMERY, Rob. 2002. 'Weeding out Spurious Etymologies: toponyms on the Adelaide Plains.' In Hodges, F., Simpson, J. & Hercus, L., eds. The Land is a Map: placenames of Indigenous origin in Australia. Canberra, Pandanus Books in association with Pacific Linguistics. VIEW HERE [Available at the State Library of South Australia, Barr Smith and other libraries in Adelaide.]
AMERY, Rob. 2004. Beyond Their Expectations: Teichelmann and Schürmann's efforts to preserve the Kaurna language continue to bear fruit. In Veit, Walter F. ed. The Struggle for Souls and Science. Constructing the Fifth Continent: German Missionaries and Scientists in Australia. Alice Springs: Strehlow Research Centre: Occasional Papers, pp.9-28. []
AMERY, Rob. 2004. Early Christian Missionaries – Preserving or Destroying Indigenous Languages and Cultures. Essay in Holy Holy Holy exhibition, Flinders University City Gallery, Adelaide, 2004, pp.36-45. [Curator: Vivianne Thwaites.]
AMERY, Rob & MÜHLHÄUSLER, Peter. Koeler's Contribution to Kaurna Linguistics. []
AMERY, Rob & RIGNEY, Irabinna- Lester. 2001. Waking up the Sleeping Languages: Language Reclamation and the Formulaic Method. AIATSIS Conference, Canberra. [[Unpublished paper presented at Canberra conference]]
AMERY, Rob & SIMPSON, Jane. 1994. Kaurna. In Thieberger, Nick; McGregor, William eds. Macquarie Aboriginal words. Macquarie University, N.S.W.; The Macquarie Library Pty Ltd, 1994; pp.144 -172. [[Kaurna entry based on Teichelmann 1857; Teichelmann & Schürmann 1840.]]
AMERY, Rob & VARCOE, Snooky. 0692 Kaurna Sentences. - HyperCard stack of 10 sentences from Teichelmann & Schürmann (1840) The Aboriginal Language of South Australia with added speech. ASEDA [[Electronic Data base]]
AMERY, Rob; WATKINS, Cherie & RIGNEY, Lester. 1997. Kaurna language & language ecology: tape transcripts (a series of Kaurna lessons with accompanying tapes) recorded by Rob Amery, Cherie Watkins & Lester Rigney. Adelaide, S. Aust., University of Adelaide, Linguistics, 1997. [[This material is available at the Flinders University Library, without the tapes.]]
AMERY, R. & WILLIAMS, G.Y. 2002. 'Reclaiming Through Renaming: the reinstatement of Kaurna toponyms in Adelaide and the Adelaide Plains.' In Hodges, F; Simpson, J. & Hercus, L. eds. The Land is a Map: Placenames of Indigenous Origin in Australia. Canberra, Pandanus Books in association with Pacific Linguistics, pp 255-276. VIEW HERE [[Available at the State Library of South Australia, Barr Smith and other libraries in Adelaide.]]
AMERY, Rob & GALE, Mary-Anne. 2000. Kaurna Warra Pintyandi. Ngadluko Perko. Kaurna Language Workshop Report. Kaurna Warra Yellakaitya- Developing the Kaurna Language for Contemporary Situations. [Interim Report. Aboriginal Education Unit, Enfield, November 2000. ]
ANGAS, George French. 1846. South Australia illustrated. London, Thomas McLean. [[Based on William Cawthorne's work]]
ANGAS, George French. 1847. Savage life and scenes in Australia and New Zealand. London, Smith, Elder. VIEW HERE [[Based on William Cawthorne's work]]
BARRY, Sir Redmond. Ed. 1887. Exposition internationale Melbourne: vocabulaire des dialects des aborigines de Australie, 1886-7. EIM wordlist. Melbourne. [Based on Teichelmann & Schürmann and Cawthorne?]
BATES, Daisy. 1919. Typescripts, correspondence. Photographs etc (11 vols.) Folio 6/III/5k, Barr Smith Library, University of Adelaide. VIEW HERE [The Kaurna wordlist is Appendix 1 to GARA, Tom. Ed. 1990. Aboriginal Adelaide, special issue of Journal of the Anthropological Society of South Australia Vol. 28, 1 p101.]
BLACK J.M. 1920. Vocabularies of four South Australian languages, Adelaide, Narrunga, Kukata, and Narrinyeri, with special reference to their speech sounds. Transactions of the Royal Society of South Australia. 44, pp. 76-93. VIEW HERE []
CAWTHORNE, W.A. 1842-1859. Literarium diarium (journals). Mitchell Library, Sydney. []
CAWTHORNE, W.A. 1844. Rough notes on the manners and customs of the natives. MS notes, SA Archives Department. [Based on Teichelmann & Schürmann. 1840 and W. Williams.]
CONDON, H. T. (Herbert Thomas). 1955. Aboriginal bird names - South Australia, pt 1 & 2. South Australian ornithologist. 1955; Vol. 21(6/7) pp 74-88; (8) pp 91-8. [Bird names in Aranda, Pitjantjatjara, Gugada, Antakarinya, Mirning, Wirangu, Yankunytjatjara, Wailbi, Wiljagali, Narangga, Kaurna, Ngadjuri, Bungandidj, Yawarawarga, Potaruwutj, Narrinyeri, Kujani, Yadliyawarra, Parnkala, Warki, Arabana, Dieri, Wangganguru, Ngamini, Nawu, Ngayawung, Nugunu & Ngalea.]
CURR, E.M. 1886. The Australian Race: Its origin, languages customs, place of landing in Australia and the routes by which it spread itself over that continent. 4 vols. Melbourne: Government Printer. VIEW HERE [[Contains Teichelmann & Schürmann and Wyatt. Available at the State Library of South Australia, Barr Smith and other libraries in Adelaide.]]
DAY, Thomas. 1902. Memories of the extinct tribe of Cowandilla natives. MS, Tindale collection, South Australian Museum. []
DECS. 1997. Warranna Purruna - Pa:mpi Tungarar - Living Languages. Video. Department for Education and Children's Services, South Australia. []
DEET. 1995. Alive and Deadly. Reviving and Maintaining Australian Indigenous Languages. Social Change Media, Leichardt. [(A project funded by the Commonwealth Department of Employment Education and Training and produced by Social Change Media.)]
DETE. 1998. Reviving languages: Warranna purruttiappendi: Tumbelin tungarar: Renewal and reclamation programs for indigenous languages in schools. Adelaide, Department of Education, Training and Employment. [Available from DETE or at the State Library of South Australia, and other libraries in Adelaide.]
DIXON, R.M.W. (Robert Malcolm Ward). 1973. Aboriginal vocabularies: south-east Australia: linguistic data extracted by R.M.W. Dixon. MS. [Notes on linguistic data in Robinson's Journals and Aboriginal vocabularies, giving relevant Victorian and New South Wales languages.]
EARL George Windsor. 1838. Vocabulary of the Aborigines of South Australia. Proceedings of the Royal Geographical Society, SA.. 1916 Vol. 16 p105. [Reprinted from the Journal Of Royal Geogr. Society of London, 1839 Vol 9 p158. Word list of 14 entries.]
EDUCATION DEPT of SA. 1989. The Kaurna People: Aboriginal people of the Adelaide Plains. Adelaide, Education Department of South Australia. [Aboriginal Studies Curriculum based on Teichelmann & Schürmann 1840; Cawthorne 1844; Wyatt 1879; Browne 1897 etc.]
EYRE, E.J. 1845. Journals of Expeditions of Discovery into Central Australia, and overland from Adelaide to King George's Sound, in the years 1840-1. London, T & W Boone. VIEW HERE [Contains vocabulary from Adelaide based on Moorhouse and Teichelmann & Schürmann 1840. Available at the State Library of South Australia, Barr Smith and other libraries in Adelaide.]
FITZPATRICK, P. 1989. Warra Kaurna: a selected wordlist from the language of the Kaurna people of the Adelaide Plains [Kaurna / English]. Adelaide, Dept. of Environment and Planning. [[Based on Gell 1904; Piesse 1840; Stephens 1889; Teichelmann & Schürmann 1840; Wyatt 1879. Has errors.]]
FOSTER, Robert. 1991. Sketch of the Aborigines of South Australia: references in the Cawthorne papers. Adelaide, Aboriginal Heritage Branch, SA Department of Environment and Planning. [[Available at the State Library of South Australia.]]
GAIMARD, Paul. 1833. Vocabulaire de la langue des habitants de Golfe Saint-Vincent. In Dumont d'Urville, J.S. ed. Voyage de découvertes de l'Austrolabe 1826-1827-1828-1829, vol. 2: Philologie. Paris, Ministère de la Marine, pp 6-8. []
GELL, John Philip. 1841-1842. The vocabulary of the Adelaide tribe. Typescript, South Australian Museum, as published in the Tasmanian Journal of Natural Science, Agriculture, Statistics &c. Vol. 1 (2): pp 109-124. [Appears as 1841 in Tindale's card file]. [Also in GELL, J.P. (John Philip). 1988. The vocabulary of the Adelaide Tribe. Journal of the anthropological society of South Australia. Vol. 25 (5), pp 3-15. VIEW HERE [Copy held in State Library of South Australia.Based on Teichelmann & Schürmann 1840.]
GELL, John Philip. 1904. South Australian Aborigines: the vocabulary of the Adelaide tribe. In Proceedings of the Royal Geographical Society of Australasia, South Australian Branch 61, pp 61-78. (South Australia 7: pp 92-100.) []
GREY, George. 1840. A vocabulary of the dialects of South Western Australia. London: T. & W. Boone. [Philology in the library of His Excellency Sir George Grey. South African Public Library, Cape Town] VIEW HERE [Annotation: Based on Teichelmann & Schürmann and others.]
GREY, George. 1841. Journals of two expeditions of discovery in North-West and Western Australia, during the years 1837, 1838 & 1839. Vol.2. London, T. & W. Boone. VIEW HERE [Based on Teichelmann & Schürmann and others.] GROOME, Howard & IRVINE, Jan. 1981. The Kaurna, first people in Adelaide. Largs Bay, S.A., Tjintu books, pp.6-7. [Contains a two-page comic strip in Kaurna. Available in the State Library of South Australia, Barr Smith and other libraries in Adelaide.]
INTERCOLONIAL EXHIBITION OF MELBOURNE. 1867. Vocabulary of dialects spoken by natives of Australia. Melbourne, Masterman. [Adelaide 14] [[Available at the State Library of South Australia, Barr Smith Special Collection and other libraries in Adelaide.]]
ITYA MAII. 1845. Letter to Gov. Grey and his wife. In the Grey collection, South African Public Library, Cape Town. [Also in Henderson, George. 1907. Sir George Grey, Pioneer of Empire in Southern Lands. London & New York, J.M. Dent & E.P. Dutton] [Available at the State Library of South Australia, Barr Smith Special Collection and other libraries in Adelaide, and Amery 2000.]
JACOB, William. 1837-1838. Journal. [[Held in State Library of South Australia. Jacob served on the 'Rapid' with Colonel Light.]]
JUNG, C.E. 1876. Zur Kenntnis südaustralischer Dialekte. Mitteilung des Vereins für Erdkunde zu Leipzig 4, 68-75. [[Based on Teichelmann & Schürmann.]]
KLOSE, Samuel. 1840-1845. Correspondence. [Original MS in German held by Lutheran Archives, Leipzig. Typescript copies and English Translations held by Lutheran Archives, Adelaide. Includes some examples of children's writing in Kaurna by Pitpauwe, Wailtyi & Kartanya, and 2 hymns by Schürmann and 4 hymns by Teichelmann in a letter to Dresden]
KOELER, Hermann. 1842. Einige Notizen über die Eingeboren an der Ostküster des St Vincent Golfs in Süd-Australien 1837 und 1838. In Mahlmann, Wilhelm, ed. Monatsberichte über die Verhandlungen der Gesellschaft für Erdkunde. Berlin, pp. 70-72. []
LHOTSKY, John. 1839. Some remarks on a short vocabulary of the natives of Van Diemen Land; and also of the Menero Downs in Australia. Journal of the Royal Geographical Society of London. 9, pp 157-162. VIEW HERE [Based on Earl 1838]
MOORHOUSE. Fragment of Journal. In Cawthorne 1842-1859. Literarium diarium (journals). [Held in the Mitchell Library, Sydney.]
MOORHOUSE, M. 1840. Protector's Report, 14 January, 1840. In; Report of the Colonisation Commissioners for South Australia, 1842. British Parliamentary Papers. Papers Relating to Australia 1842-44, Vol. 7 Colonies Australia. [Facsimile edition, 1969, Irish University Press, Shannon, Ireland, pp322-324.]
MOORHOUSE, M. 1840-1857. Protector of Aborigines Out Letter Book, May 21, 1840 to Jan. 6 1857. [Held by State Records, Adelaide.]
MOORHOUSE, M. 1843. Letter to Sir George Grey sent from Adelaide May 1st, 1843 and replies to Moorhouse's Inquiries from J. Hutt, Governor of Western Australia. [Original held in Sir George Grey's Collection, Auckland Public Library.]
PIESSE, Louis. 1840. Letter to the Editor of the Adelaide Guardian dated 18 October 1839. The South Australian Colonist. 1, 19, 296. []
NGARRINDJERI, NARRUNGA AND KAURNA LANGUAGES PROJECT. 1990. Narrunga, Kaurna & Ngarrindjeri Songs. (Songbook and tape). Collaborative production by GALE, Kathryn; AGIUS, Josie; AMERY, Rob; SCHULTZ, Chester; NEWTON, Leigh; VARCOE, Nelson & CROTHERS, Chris [[Available for purchase from Kaurna Plains School, and on loan from the State Library of South Australia, Barr Smith and other libraries in Adelaide.]]
PARKHOUSE, Thomas Anstey, ed. 1933-1935. Reprints and Papers relating to the autochthones of Australia. Woodville, S.A., Parkhouse. [[Two volume reproduction of John Stephens, William Wyatt, William Williams, Teichelmann & Schürmann and Moorhouse – all taken from elsewhere. Available at the State Library of South Australia, Barr Smith and other libraries in Adelaide.]]
PORT YOUTH THEATRE WORKSHOP. 1998. Yitpi: fun with feelings. Port Adelaide, S. Aust., Port Youth Theatre Workshop inc. [ [videorecording] [Resource kit including 4 booklets, a 19 minute video and workbook to encourage children to explore emotions and ways of dealing with feelings; incorporates some Kaurna words. Available at the UniSA library and other libraries in Adelaide.]]
RADIO ADELAIDE. 2003 onwards. Kaurna greeting played three times each day. Speaker: Karl Telfer. Station: 101.5 FM. []
RIGNEY, Lester-Irabinna. 2001. Building Stronger Communities: Indigenous Australian Rights In Education and Language. Paper presented at the Commission On Human Rights, United Nations, Sub-Commission on the Promotion & Protection of Human Rights, Working Group on Indigenous Populations to review 'Developments Pertaining To the Promotion and Protection Of Human Rights And Fundamental Freedoms Of Indigenous Peoples.' Session Nineteen, 25th JULY 2001, Geneva, Switzerland (Invited as apart of ATSIC Delegation). VIEW HERE []
RIGNEY, Lester-Irabinna. 2001. The First Perspective of Kaurna Language Revival: Aboriginal Language Recovery toward Intellectual Sovereignty'. Key Note Address, Australasian Universities Language and Literature Association conference, 6-9 February, 2001. []
RIGNEY, Lester-Irabinna. 2002. Bread versus Freedom: Treaty and stabilising Indigenous Languages. Keynote Address, National Treaty Conference, National Convention Centre, Canberra, 26-29th August 2002. VIEW HERE [[Includes an introduction in Kaurna.]]
RIGNEY, Lester-Irabinna & AMERY, Rob. 2001. Recognition of our Languages: The Right to Name Ourselves and Our Country Towards Indigenous Intellectual Sovereignty. Paper in Indigenous Peoples & Racism Conference Program, Sydney, Australia, 20-22 February 2001. [[Conference of Indigenous Peoples of Australia, New Zealand, Canada and the United States, Indigenous Peoples And Racism, Regional Meeting for the United Nations World Conference Against Racism, Racial Discrimination, Xenophobia and Related Intolerance.]]
ROBINSON, George Augustus, 1791-1866. Aboriginal vocabularies: south-east Australia, c. 1839-1847. VIEW HERE [Includes vocabulary of the Adelaide tribes by John Philip Gell, 1842. Papers held in the Mitchell Library, Sydney. A7085(6). Reproduced in AMERY, Rob, 1996. Kaurna in Tasmania: a case of mistaken identity. Aboriginal history, 20 pp 24-50.]
SCHMIDT, Wilhelm. 1919. Die Gliederung der Australischen Sprachen: Geographische, bibliographische, linguistische Grundzüge der Erforschung der australishen Sprachen. Wien, Druck und Verlag der Mechittharisten-Buchdruckerel. [[Based on Teichelmann & Schürmann and others. Available at the State Library of South Australia, Barr Smith and other libraries in Adelaide.]]
SCHULTZ, Chester, VARCOE, Nelson & AMERY Rob (eds). 1999. Kaurna Paltinna: a Kaurna Song Book. Elizabeth, SA, Kaurna Plains School. [[A book and accompanying tape of 25 Kaurna songs produced in collaboration with SCHULTZ, Chester; VARCOE, Nelson; WATKINS, Cherie; AMERY, Rob and students and staff of Kaurna Plains School and Para West Adult Campus of Inbarendi College. Reprinted with CD, January 2004. Available from Kaurna Plains School, or on loan from the State Library of South Australia, Barr Smith and other libraries in Adelaide.]]
SCHÜRMANN, Clamor W. 1838-1853. Journals. [Copies of originals in German held by Lutheran Archives Adelaide. English translation held by Anthropology section, South Australian Museum, Adelaide and the Lutheran Archives, Adelaide.]
SCHÜRMANN, Clamor W. 1840. Ten Commandments in Kaurna. South Australian Gazette and Colonial Register, 20 May 1840. [Held in the State Library of South Australia.]
SCHÜRMANN, Clamor W. 1840. Governor Gawler's address (Queen's Birthday May 1840). South Australian Gazette and Colonial Register, 20 May 1840. [Held in the State Library of South Australia.]
SCHURMANN, Edwin A. 1987. I'd Rather Dig Potatoes: Clamor Schurmann and the Aborigines of South Australia 1838-1853. Adelaide, Lutheran Publishing House. [Available at the State Library of South Australia, Barr Smith and other libraries in Adelaide.]
SEE, Richard Edward. 1976. Comparison of some Australian languages. Ann Arbor, Michigan. London, University Microfilms International 1976. [[PhD. Thesis - University of California, Los Angeles. Comparison of 9 language based on Curr. Held in the AIATSIS print collection.] ]
SENIOR SECONDARY ASSESSMENT BOARD OF SOUTH AUSTRALIA. 1996. Australia's Indigenous languages. Wayville, SA, Senior Secondary Assessment Board of South Australia. [[Available from purchase through SSABSA or in loan at the State Library of South Australia, Barr Smith and other libraries in Adelaide.]]
SSABSA. 1994. Australian Indigenous Languages Framework. 2nd ed. Wayville, S.Aust.: Senior Secondary Assessment Board of South Australia. [[Available from purchase through SSABSA or in loan at the State Library of South Australia, Barr Smith and other libraries in Adelaide.]]
SSABSA. 1996. Australia's Indigenous languages in practice - a national curriculum project for accreditation of Aboriginal and Torres Strait Islander languages at Year 11 and 12. Wayville, SA, Senior Secondary Assessment Board of South Australia. [[Includes specific units of work on Place Names and Kaurna Kinship. Available through SSABSA or on loan at the State Library of South Australia, Barr Smith and other libraries in Adelaide.]]
SIMPSON, Jane Helen. 1985. Analysis of material on Kaurna and annotated bibliography. Burnside, SA, 1985. AIATSIS print collection. []
SIMPSON, Jane Helen. 1996. Early language contact varieties in South Australia. Australian Journal of Linguistics. Vol. 16 no. 2 (Sept. 1996), pp 169-207. [[Available at the State Library of South Australia, Barr Smith and other libraries in Adelaide.]]
South Australian Aboriginal Education Consultative Committee. 1983. Conference: Nurnti Tindula 'Now and tomorrow'. Session: Kaurna, language of the Adelaide Plains people. Port Augusta, SA . 31st August - 2nd September, 1983. Pt. Augusta TAFE College. Adelaide, South Australian Aboriginal Education Consultative Committee, 1983. [AIATSIS print collection.]
STEPHENS, Edward. 1838. Letter to E.G. Wheeler, Manager, South Australian Co. London, dated 27 October 1838. In Norman B. Tindale (1935b) 'Notes on the Kaurna or Adelaide Tribe and the natives of Yorke Peninsula and the Middle North of South Australia'. Unpublished journal held in the Tindale Collection, South Australian Museum, Adelaide, 163-4. []
STEPHENS, Edward. 1889. 'The Aborigines of Australia: Being Personal Recollections of those Tribes which once inhabited the Adelaide Plains of South Australia', Journal and proceedings of the Royal Society of New South Wales. Sydney, Vol. XXIII, pp. 476-502. [Based on Williams 1840.] [This material is available at the State Library of South Australia, Barr Smith and other libraries in Adelaide.]
STEPHENS, John. 1839. The land of promise: being an authentic and impartial history of the rise and progress of the new British province of South Australia: including particulars descriptive of its soil, climate, natural productions, &c., and proofs of its superiority to all other British colonies: embracing also a full account of the South Australian Company… by one who is going. London, Smith, Elder & Co. VIEW HERE [Available at the State Library of South Australia, Barr Smith and other libraries in Adelaide.]
TAPLIN, Rev George. 1879. The Folklore, Manners, Customs, and Languages of the South Australian Aborigines. Adelaide, E. Spiller, Acting Government Printer. VIEW HERE [[Available at the State Library of South Australia, Barr Smith and other libraries in Adelaide.]]
TEICHELMANN & SCHÜRMANN. 1886. Adelaide and its neighbourhood. In Curr, E.M. The Australian race: its origin, languages, customs, place of landing in Australia and the routes by which it spread itself over that continent. Melbourne. Government Printer: Vol. 2, pp. 148-151 VIEW HERE [Taken from Teichelmann & Schürmann 1840. Available at the State Library of South Australia, Barr Smith Special Collection and other libraries in Adelaide.]
TEICHELMANN, C.G. & SCHÜRMANN, C.W. 1840. Outlines of a grammar, vocabulary, and phraseology of the aboriginal language of South Australia, spoken by the natives in and for some distance around Adelaide. Adelaide, C.G. Teichelmann and C.W. Schürmann. [Facsimile edition published by Tjintu Books, Largs Bay, 1982; and Public Library of South Australia, Adelaide, 1962. Available at the State Library of South Australia, Barr Smith and other libraries in Adelaide.]
TEICHELMANN, C.G. 1841. Aboriginals of South Australia: illustrative and explanatory notes of the manners, customs, habits, and superstitions of the natives of South Australia. Adelaide, Committee of the South Australian Wesleyan Methodist Auxiliary Missionary Society. [Footnotes contain Kaurna language.]
TEICHELMANN, C.G. 1857. Dictionary of the Adelaide dialect. MS 4vo.pp.99 (with double columns.) No.59, Bleek's Catalogue of Sir George Grey's Library dealing with Australian languages, South African Public Library. []
TEICHELMANN, C.G. 1858. Of the verb. MS 8vo. Pp.3. No.57, Bleek's Catalogue of Sir George Grey's Library dealing with Australian languages, South African Public library. []
TEICHELMANN, C.G. 1839-1846. Teichelmann Diary 1839-1846 and Letters from and to him 1838-1853. Original MS in German held by the Lutheran Archives, Leipzig. [Typescript copies of both and English translation of diary held by the Lutheran Archives, Adelaide.]
TELFER, Karl. 1997. Wiltarninga Be Strong. In PROCTER, Jo & GALE, Mary-Anne. Eds. Tauondi Speaks from the Heart. By students from Tauondi College. Port Adelaide, Tauondi College, 1997. [Poem in Kaurna and English. Available at the State Library of South Australia, Barr Smith and other libraries in Adelaide.]
TINDALE, Norman B. c.1931 - c.1991. 'Vocabularies: Kaurna.' Held in the Tindale Collection, South Australian Museum. Identifier: AA 338/7/1/12 [Several related papers held in the same collection]
TINDALE, Norman B. 1935. Notes on the Kaurna or Adelaide Tribe and the natives of Yorke Peninsula and the Middle North of South Australia. Unpublished journal, Held in the Tindale Collection, South Australian Museum. Identifier: AA 338/1/35. []
TINDALE, Norman B. c.1931 - c.1991. 'Vocabularies: Kaurna.' Held in the Tindale Collection, South Australian Museum. Identifier: AA 338/7/1/12 [[Basically taken from literature sources and may contain analysis of some place names]]
TINDALE, Norman B. c.1930 - c.1980. 'Kaurna, Adelaide Tribe, A-K Native.' Held in the Tindale Collection, South Australian Museum. Identifier: AA 338/7/2/12. [[Based on Williams 1840; Teichelmann & Schürmann 1840; Wyatt 1879; Stephens 1889.]]
TINDALE, Norman B. c.1930 - c.1980. 'Kaurna, Adelaide Tribe, M-Ng Native.' Held in the Tindale Collection, South Australian Museum. Identifier: AA 338/7/2/13. [[Based on Williams 1840; Teichelmann & Schürmann 1840; Wyatt 1879; Stephens 1889.]]
TINDALE, Norman B. c.1930 - c.1980. 'Kaurna, Adelaide Tribe, Ni-To Native.' Held in the Tindale Collection, South Australian Museum. Identifier: AA 338/7/2/14. [[Based on Williams 1840; Teichelmann & Schürmann 1840; Wyatt 1879; Stephens 1889.]]