"These trails provide a chance for community to heal from past trauma, and also to share their stories with future generations."
The Oodnadatta trails were opened in 2019 for use by residents and visitors. The two mixed-use trails explore the rich history, language and culture of the area and are appropriate for walking, bike riding and driving. Users follow the map (download below) to markers which are placed along the trails at significant sites. Trail markers include placenames in Lower Arrernte and Yankunytjatjara languages, as well as in English. This mix of languages acknowledges and respects the layers of cultural and social history of Oodnadatta and its surrounds.
Tjukurpa trail
The Tjukurpa trail is a mixed-use trail which takes users on a journey through the Aboriginal history of Oodnadatta. Tjukurpa is a Yankunytjatjara word which can be translated as 'Dreaming', 'Story' or 'History'. This trail is a wide loop on the outskirts of town which highlights many sites including an old camp and an ochre pit. It is approx. 6km long (1.5hrs walking) and is most suited to driving and bike riding.
Click the links below to learn more about the trail sites. Lower Arrernte placenames, followed by Yankunytjatjara placenames are displayed.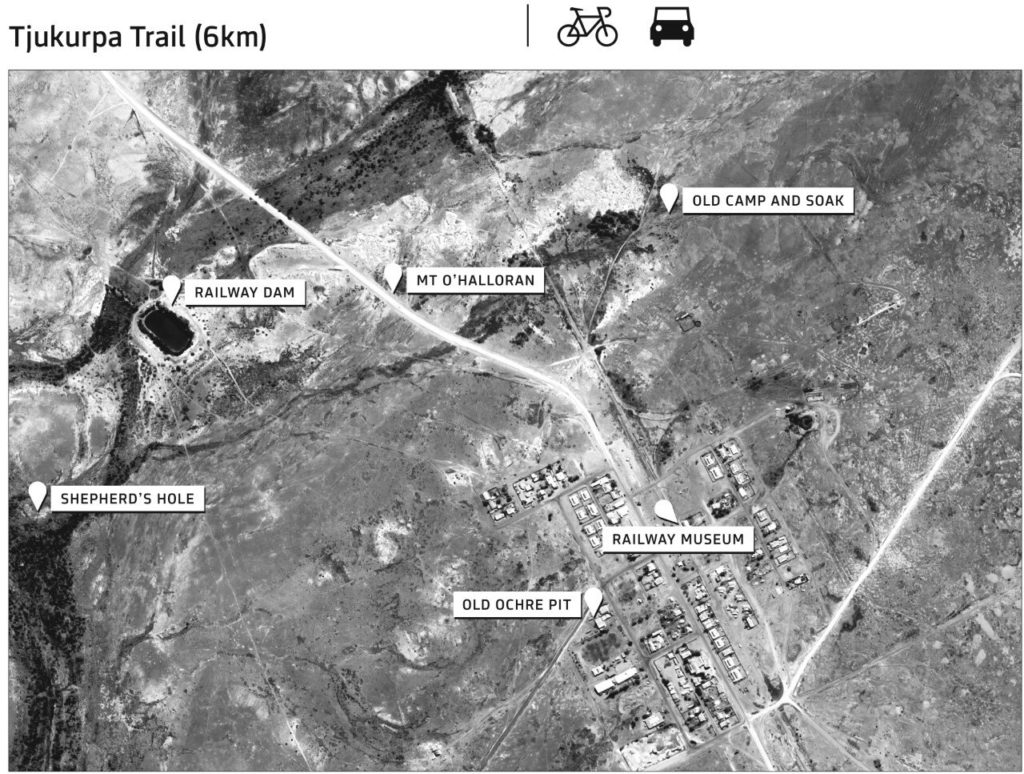 Stolen Generations trail
The Stolen Generations trail is a loop around the township which highlights sites of importance to the social history of Aboriginal people, including the Colebrook United Aboriginal Mission (UAM) and Oodnadatta Aboriginal children's hostel, which played central roles in the Stolen Generations era. This trail is approx. 4km long (1hr walking) and is most suited to walking and bike riding.
Ardugula Aboriginal Corporation and partners acknowledges the support of the South Australian Government's Stolen Generations Community Reparation Fund for the development of these trails.
Cover photo of men in front of the Transcontinental hotel (Oodnadatta, c. 1908) SAMA 1083-15-3208, courtesy of the South Australian Museum.